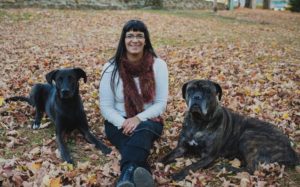 Northwest Arkansas School for Dogs is a professional dog training facility that provides positive reinforcement and force-free dog training solutions for your dog training needs.
Our services include
Leave the training to our professional trainers.  Your dogs day will be structured for learning, play, relaxation and walks around the beautiful Mt. Sequoyah retreat learning how to be your perfect family dog.
In our group classes, students learn not only from our instructors but each other!  Our six-week long classes are offered at our classroom in Fayetteville and are grouped by the age and skill level of your dog to help you reach your their full potential.  
Puppy Start Right – Saturdays at 9am
Elementary School – Wednesdays at 7pm and Saturday at 10am
Manners  – Wednesdays at 6pm and Saturday at 11am
This is the perfect option for dog owners whose schedule doesn't work with group or day training options or for dogs that may not be quite ready to join a group class..  We work with entire families with our private in-home training sessions.

Behavior Modification
We are happy to offer private sessions for clients whose dogs may exhibit behaviors that prevent them from being well balanced and happy dogs.  By offering step by step instructions, we help build skills to eliminate problem behaviors.
For more information, please contact Shanthi Steddum, KPA-CTP.
Are you and your dog ready to live a well-balanced, happy life?  Is your family ready to have fun with your dog?  Contact us today to discuss your specific dog training needs.