Doggy Daycare with a training twist!
Let your dog spend the day at our professional training facility learning essential manners to be a great family pet while playing with other dogs.
NOW OPEN MONDAY THROUGH FRIDAY!
Does this look familiar?                                Or Maybe this?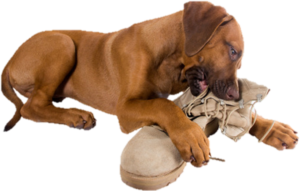 *Is your dog bored or destructive when left at home?
*Is your dog overwhelmed by large playgroups at doggy daycare?
*Does your dog drive you crazy when you get home from a long day working?
*Are walks with your dog more of a nightmare than a pleasure?
*Have you heard yourself say "I just don't know what to do!"?
The day school at the School for Dogs is the solution you've been looking for!
Day training offers your dog the opportunity to learn with a professional trainer, thus making the new behaviors more reliable!
At the School for dogs we:
train behaviors that take the place of those unwanted ones

spend one on one time playing with your dog molding good behavior

practice leash manners on their walk around the grounds of Mount Sequoyah

learn the skill and trick of the day!

While at school, your dog will be treated to individual care, attention and training so they come home educated, exhausted and entertained!

Mount Sequoyah Retreat and Conference Center hosts our training classes and day-school
                
M-F 7:30 am-5:30 pm
Pricing:
Day-School Base Ratev-$40/day
includes one on one training session, one leash skills walk,
an adventure walk around Mount Sequoyah 
and personal play time with our staff 
Additional behavior modification protocols
i.e. crate training, barking cessation while at school
+$20/day as needed
ASK ABOUT PACKAGE RATES
All skills are taught using positive reinforcement.