Shanthi Steddum, B.S., KPA-CTP
  
 Shanthi is a Certified Training Partner of the Karen Pryor
Academy for Animal Behavior and Training.  She began training her own dogs in 1996 with her beloved Doberman "Niko".  It was through her ten years with him that she learned to listen to her dogs by observing their body language.  That knowledge, along with her positive reinforcement training, quickly gained her recognition around the local dog park as well as the obedience club she was attending. 
In 2004, she took over teaching the Basic Obedience class using play and training to strengthen the bond between dog and human.
Using fun and easy techniques, Shanthi has helped countless dogs stay in their home by learning how to be a well mannered member of the family.
It is my goal to provide fun and force-free positive reinforcement dog training to the pups and people of Northwest Arkansas. – Shanthi
Cindy Martin, KPA-CTP
Cindy

Martin

is a Certified Training Partner of the Karen Pryor

Academy for Animal Behavior and Training. She was the first person to
complete the program with a Bull Terrier as her training partner.  She
also serves as an online coach for Alexandra Kurland's The Click That
Teaches course in equine clicker training.  She also taught a cat to
high-five.  Working with multiple species has made

Cindy

a better
trainer.
Cindy

is a Full Member of the Association of Professional Dog Trainers

(APDT), a Supporting Member of the Society of Veterinary Behavior
Technicians, and a Supporting Member of the International Association
of Animal Behavior Consultants, in both the Dog and Horse divisions.
She participates in the Behavior Education Network, run by Certified
Applied Animal Behaviorists Suzanne Hetts and Daniel Estep. She has
attended Clicker Expo since 2010, and served as a lab coach for Kay
Laurence, Emma Parsons and Alexandra Kurland at the Expos. By
invitation, she attends the annual ORCA conference (Organization for
Reinforcement Contingencies in Animals) at the University of North
Texas.
"I really enjoys helping people build deeper connection with and
appreciation for their animals. It's my responsibility to meet the
learners at their 'base camp,' and encourage them to explore the
greater possibilities clicker training can bring to the human-animal
bond."
 

Amanda Dendler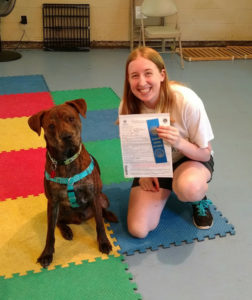 Amanda has been apprenticing with at the School for Dogs since September 2016 and is currently studying to take her certification exam through the Certification Counsel of Professional Dog Trainers (http://www.ccpdt.org/). 
She has worked with dogs for the last several years at a dog daycare facility as well as a grooming salons.  Her experience in those environments brings a unique perspective as an assistant at the School for Dogs.